Packaging materials for shipping large items
Shipping pallets
Include a packing base. Shipments must be on a pallet, skid, or other forklift- and pallet-jack-accessible base with a minimum clearance of 105 mm. Pallet-jack entry is required on two sides of the base. The pallet should be made of wood and be able to withstand the stress of being hauled and lifted. Such shipments should never exceed the weight restrictions of their pallet (350 kg).
Shipping crates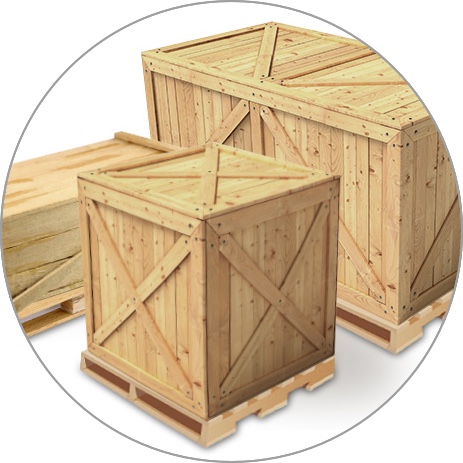 When constructed properly, wooden crates are a good option for shipping large items. To help ensure that your shipment is protected, crates should be made of quality lumber, ideally plywood. Avoid using oriented strand board (OSB), medium-density fiberboard (MDF), or particleboard. The size and weight of the shipment can help you decide on the crate configuration and style, including what packaging materials and fastener types to use.
Freight boxes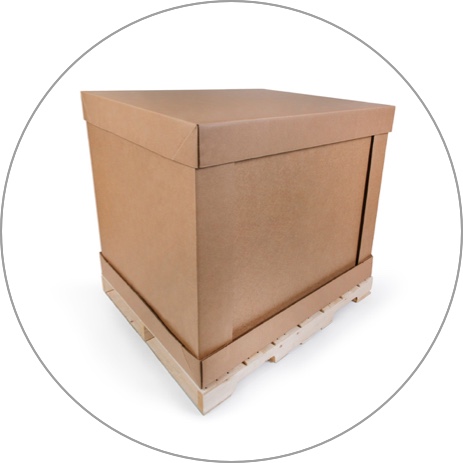 Also called bulk bins, cargo boxes, or bulk containers, freight boxes are larger and sturdier than standard shipping boxes. They can be made of corrugated cardboard, wood, or plastic, and they come in different sizes to accommodate a lot of different products.
How to secure freight shipments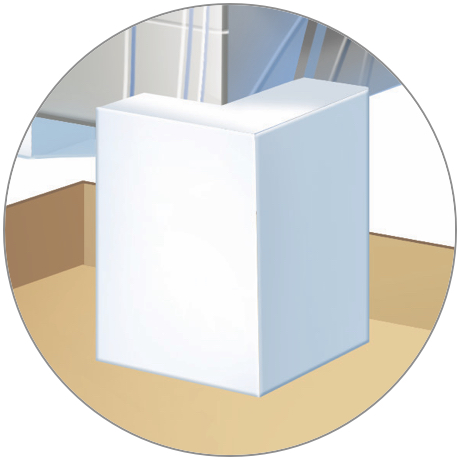 Foam cushioning—Foam density levels vary, so make sure the foam you choose is dense enough to protect your product. It's a good idea to test the cushioning in an environment that simulates the actual shipping conditions.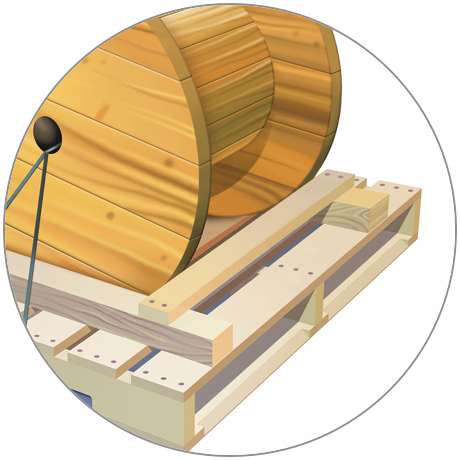 Blocking—Use blocking material like wood to prevent any movement when shipping single heavy goods. For items over 1,500 lbs., use hardwood pallets and blocking material, and use at least two fasteners in each brace to prevent pivoting and ensure adequate strength.
Bracing
—Items that can roll or shift because of their shape or size should be braced on a forklift-accessible pallet base. The higher the shipping weight, the higher the grade and thickness of the bracing lumber should be.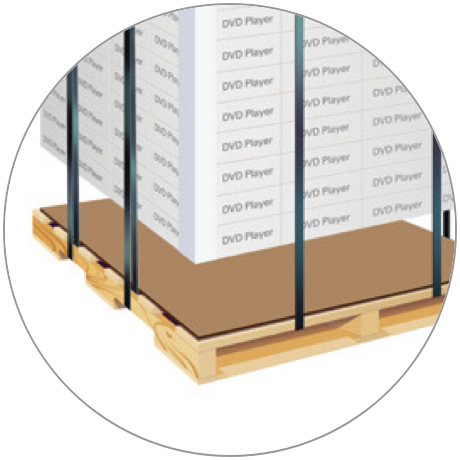 Load protectors
—Top and bottom load-protector pads help reduce damage to the top and bottom layers of your shipment. They also help distribute the weight of top-loaded freight. Bottom load protectors provide a level surface, offer protection from pallet nail heads, and help keep boxes from slipping into the gaps between the boards on the pallet.
Edge boards
—Also called angle boards, edge boards should run the full length or depth of the stack to help unitize the load, increase vertical stacking strength, and reduce damage to box edges that make up the load corners.
Bands
—Banding secures the bundled load to the pallet. Keep the banding close to the load to avoid exposure, damage, or breakage. Loads significantly smaller than the pallet should be centered and banded to the closest pallet deck boards, not the pallet exterior. Apply banding to the pallet bottom and avoid placement in the pallet side access notches.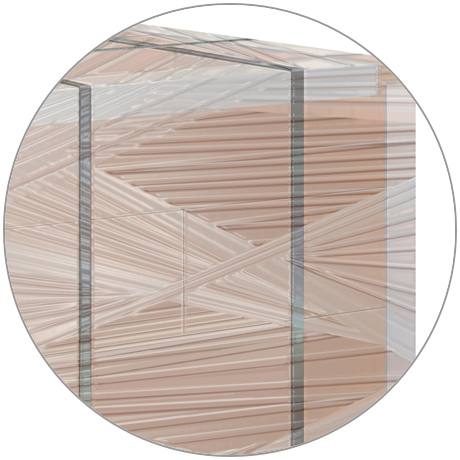 Stretch wrap
—This material is critical for bundling loads and securing and protecting large individual pieces. Wrap loads tightly to prevent shifting. Use 70-gauge stretch wrap that sticks to itself so it can be wipe-sealed as it's applied. To properly secure the load to the pallet, make sure you've achieved the minimum containment force.
Tips for securing large parts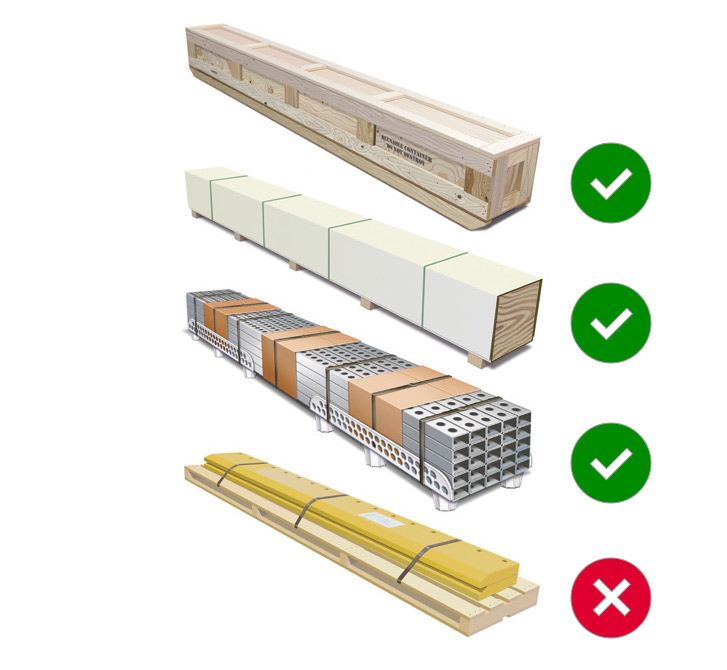 Packing long parts
During shipping, long parts can damage other cargo and can even pose a threat to trucks and planes when they're not packed properly. It's important to bundle, secure, and crate these items. Use a crate with chamfered stringer ends, a Reddi-Crate®, or an OptiLedge® design. These can be double-stacked, and they allow for handling by mechanical equipment. Make sure labels and paperwork will adhere to the outside.
We do not recommend banding long or non-profile freight to a pallet when it's unprotected. It doesn't provide outer protection for double stacking or blocking on the ends to prohibit side-to-side shifting. Shipping labels might not adhere to an uneven surface, risking shipment loss.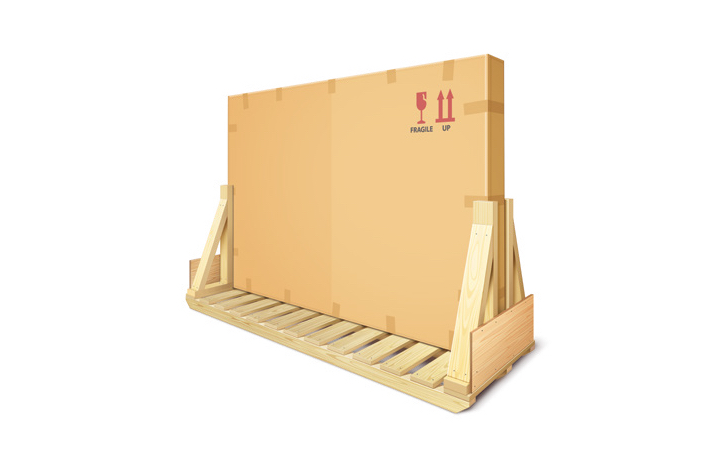 Packing large, flat parts
Shipping large, flat items requires appropriately sturdy shipping containers. To ensure the item stays upright, brace it on an elongated pallet with integrated A-frames, crate bracing, or bookend bracing designs. The width of the pallet base should be more than half the unit's centre of gravity or height.
And some general tips:
When packing for freight please be aware of exposed corners or edges. The best way to eliminate this issue would be to box parts that are to be palletized. Packaging material like kraft paper and foam should still be utilized when packing.
Shipments of more than 30 kilograms require made-to-measure packaging.
Maximum order weight with pallet - 350 kg. Shipments over 350 kg should be devided.
Always put your goods in the centre of your package so they don't touch the sides (if they do, the box may burst during transit).
Fill up any empty spaces with extra cushioning material.
Carefully seal the packaging using pressure-sensitive tape. The H-taping method guarantees the best result: apply 1 strip of tape along the centre seam, and 2 strips across both edge seams.
Keep the weight and size restrictions in mind for your type of shipment (international or domestic, express or standard shipping, …) and make sure to palletise heavier shipments.