Basic information
In case if parts were accepted by Customer: 20 days after delivery on time and 40 days in case of delayed delivery.
Customer delayed payment risk stays with Xometry, the production partner will be paid on time. In case of claims identified payment terms and refund conditions are discussed additionally.
Proper invoicing significantly speeds up the work and processing:
1. When you are ready with the parts, it is packed in the box and box is ready to be sent to Xometry Europe – you have to issue an invoice to us and upload to your cabinet to the corresponding order.
2. If you are sending partial quantity of the production order – upload an invoice for this partial quantity when you are sending the box. Do not wait until you produce the whole order unless we have specifically agreed with you to do so.
3. If you don't send us invoice within the same month – it will be very difficult for us to sort this invoice in accounting system into the correct month. It will lead to problems in payment of your invoices
We kindly ask you to indicate in the invoices which you attach to the boxes:
- a real value (as it is stated in PO/production order);
- delivery terms: DAP Ottobrunn
- payment terms: 20 days net after delivery in time, 40 days net in case of delays

The low value (understated customs value) can cause the questions and future problems with German authorities which can influence on our fruitful cooperation.
Below is an example of the value in the PO and the invoice that was sent to us (the example is just for illustrative purposes only). As you can see - the cost is less than in the order.
Please, do not do it like that! Only the real value should be indicated in the invoice.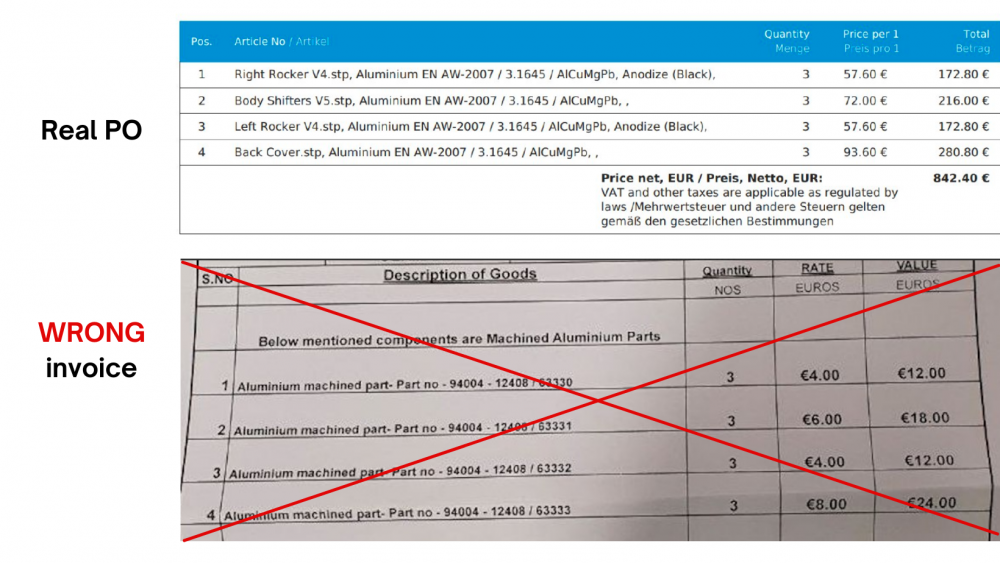 Invoices execution:
1. If your company is not registered in Germany, 0% VAT should be added (for German providers it still remains 19%).
2. Payment due date should comply with our conditions listed in the Purchase order - 20 days in case of delivery in time, 40 days in case of delayed delivery.
3. The invoice should be issued only for 1 order each (i.e. bundled invoices will be not accepted)
4. In the invoice there should be listed:
a. Xometry's PO number (PO-XXXX-XXXX)
b. Invoice number
c. Translation of its fields info German/English
d. Our official info: Xometry Europe GmbH, Ada-Lovelace-Str., 9, Ottobrunn, 85521, Germany
VAT: DE318027176
How to issue an invoice/credit note correctly?
The document must have:
• Title: for invoice - Rechnung, Factura or Invoice or for credit note - Gutschrift/Rechnungskorrektur or Credit Note (for credit note)
• Full name and address of the supplier
• Full name and address of our company (customers): Xometry Europe GmbH, Ada-Lovelace-Str. 9, 85521 Ottobrunn
• Supplier VAT-ID No. (if required)
• Supplier bank data: Bank Name, IBAN, BIC/SWIFT
• Date of invoice
• Unique + Consecutive invoice number
• Service date – alternatively "invoice date corresponds to service date"
• Type of service/delivered goods: quantity + net price per unit or packaging volume
• All prices must be listed in EUR
• Tax rate must be listed in % and in EUR
• Agreed upon price discount with the supplier if applicable
• Total net amount + Total gross amount
• Terms of payment / target date and/or due date
• Xometry Europe PO Number
• Small businesses, primarily in DE, which do not pay VAT must have this sentence on the document:
"Due to the small settlement of the USTG Section 19 is only a bill without a separate identity of the sales tax issue (§19 USTG)."
• Document must be translated into a GERMAN or ENGLISH version
• Document may only be assigned to one PO - bundled Invoices are not accepted.
How to upload the invoice?
Go to My Orders and then to Order details, Invoice section
Invoice information
✅ POSITIONS
1. In the drop-down menu, select the position which you are invoicing. You can add transport, packaging, service or other costs if it was agreed with Xometry Europe.
2. Click "Add"
3. You can invoice only the part of the PO. If you want to issue an invoice for individual parts from the whole PO, you can remove items by clicking on the icon on the right side of the position.
4. Check VAT
5. Check everything and click continue
✅ DETAILS
1. If it's the first time when you are here, please, fill in the bank details of your company
2. Enter invoice details (such as invoice number, invoice date, payment date)
✅ REVIEW & SAVE
1. Check company info and bank details
2. Check the correctness of the invoiced items
3. Upload the invoice (issued according to the rules above) in pdf
4. Submit invoice